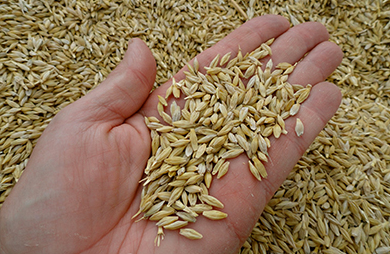 We believe it's the best meat you can buy.
In 2012, we worked with Fodder Solutions, Glen Farm and Blask Engineering to build the infrastructure to feed our free range cattle a standardised, custom-designed supplemental feed ration without ripping up our paddocks or exposing us to fertilisers and pesticides. We harvest nearly two tonnes of barley grass every day to supplement the pasture our small herd of cattle eat.
Living sprouts are extremely high in nutrients. Chlorophyll, enzymes and essential amino acids are present in sprouts but not in grain. This increase in available nutrients leads to improved coat and hoof health, as well as greater weight gain, better temperament, and tastier meat.
Sproutfed animals have more omega-3s than grain-fed animals because omega-3s are formed in the green leaves (specifically the chloroplasts) of plants. People who have ample amounts of omega-3s in their diet are less likely to have high blood pressure or an irregular heartbeat. Remarkably, they are 50 percent less likely to have a serious heart attack. Omega-3s are essential for your brain as well. People with a diet rich in omega-3s are less likely to be afflicted with depression, schizophrenia, attention deficit disorder (hyperactivity), or Alzheimer's disease. Another benefit of omega-3s is that they may reduce your risk of some cancers.
When nursing cows are fed sprouts, their milk has an increase in milk fats which translates to higher weights for weaned calves. By feeding sprouts to our breeding herd, we are ensuring the best possible meat from birth.
Sprouts are scientifically proven to increase the digestibility of other feed. This is the "secret ingredient" that allows us to achieve similar weight gain results to an intensive grain feeding feedlot without compromising on animal health. In fact, from the thousands of cattle we have put through the 90-120 day program, we have never had one death (or even serious illness!). This is in comparison to confined grain feeding (feedlotting) where tick fever, foot rot, pulp kidney, respiratory disease, blight, bloat, acidosis and liver abscesses are all relatively common due to cramped and dirty living conditions.